Cooking is like any other hobby – the tools and equipment do matter.
So do the ingredients that go into any dish. Typically, I purchase spices and sesame seeds in bulk from a health food store. I often buy the store brand of many canned items. Store brands also work well for many frozen items, like baby butter beans, chopped broccoli and spinach for casseroles (yes, I still make casseroles and I use canned soup in some of them!), and even okra.
However, I do have brand loyalty for certain items, such as:
Duke's Mayonnaise, which, like the label says, is the secret to great food! I am never, ever without Duke's. I try to purchase it when it goes on the buy one-get one sale at the supermarket. It goes into my chicken salad, my potato salad, my egg salad, and a dollop goes into my homemade pimento cheese. It's the secret weapon in hot chicken salad, chicken divan, and tomato pie.
Let's think about the simple hamburger . It's just got to have a slather of Duke's and a squirt of Heinz, right? And meatloaf without a Heinz and brown sugar topping, hash browns without a side pile of Heinz, and barbecue sauce without Heinz? No way! Like Duke's, I always have one bottle in the fridge and another in the pantry.
Stonewall Kitchen Old Farmhouse Chutney
Chutney is the key ingredient to a curried chicken salad I make with purple grapes and slivered almonds from a recipe given to me by friend Dottie, who was given the recipe by her Aunt Myrtle. Chutney is also a great condiment to curried shrimp over white rice – along with pickle relish and crisp fried bacon crumbles. I had never tasted curry before coming to Savannah, and as a young food editor was surprised to find recipes for curried dishes in old Savannah cookbooks. Turns out that curries have been popular in this area since Colonial days, when spices were brought over Europe. Curry was listed in estate inventories of Savannah residents dating from 1804.
The label says "uniquely different," and I would agree. Looking at the label, there is nothing surprising about the ingredients - tomatoes, water, jalapeno peppers, dehydrated garlic, salt, cilantro, red wine vinegar, spices, lemon juice concentrate. It's just really good canned salsa, perfect for topping my shrimp tacos.
I always use Uncle Ben's Original Enriched Parboiled Long-Grain Rice for my red rice because the grains don't stick together. This is essential when making red rice, a Savannah staple that requires that the rice be cooked al dente and that each grain be separate. Also on my pantry shelf you will find Mahatma Jasmine and Mahatma Basmati rice. Both are aromatic and fluffy and delicious, better choices for dishes that have delicious juices that need sopping up.
Casina Rosa Truffle & Salt
Rub this heavenly mixture onto your steaks before pan-searing in a teaspoon of coconut oil. In fact, I like this combination so much, I prefer to pan-sear filet mignons instead of grilling. You can find the salt on-line and in specialty salt and spice stores. Coconut oil, once a specialty item that you had to mail order, is now available in the supermarket.
South Georgia Pecan Co. Roasted and Salted Pecan Halves
This company is located in my hometown of Valdosta, GA. I almost always stop there on my way into town and buy at least two one-pound bags of these nuts. Roasted, salted nuts will transform your cookies and brownies. They also make a delicious snack with drinks. I can salt and roast my own pecans, but why do it when you can let this company do it for you? I keep these in the freezer until needed to keep them from getting moldy or rancid.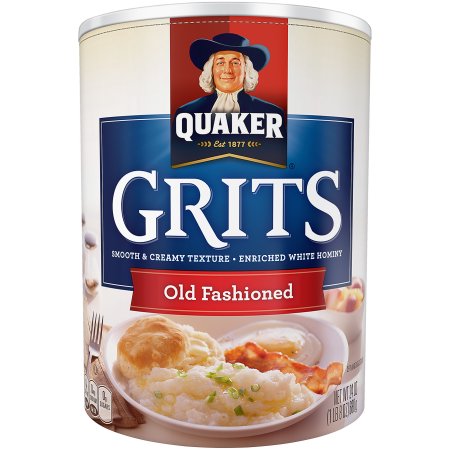 Some people are very snotty about grits. Although I don't care for quick or instant grits, I have had excellent results with Quaker Old Fashioned Grits. When I want to show off, I serve Yelton's Best Stone Ground Grits, which I order on-line, or Freeman's Mill white or yellow grits, which are milled using century-old equipment in Bulloch County Georgia. For a listing of where Freeman's Mill products are sold, go to freemansmill.com In general, I've had the best results using about a quarter of a cup less water than the package recipe calls for. You want the grits to have good body .
Nestle Toll House Chocolate Chunks
I believe I have perfected my chocolate chip cookie recipe. The recipe has lots of butter, so the cookies spread and are quite thin. I started leaving out the nuts, and instead of chocolate chips, I discovered chunks. When you bite into cookies made with chunks, you get a hunk of chocolate instead of a chip. Not every grocery carries the chunks, and so I buy in bulk when I find them, as I make chocolate chips once a month and store them in freezer bags in the freezer. I've asked the grocery stores about why they aren't available year-round and the response is that the chunks are "seasonal." Go figure. My husband, children, and granddaughter know where to go for their cookie fix.